Fibre broadband explained
Fibre broadband is the most popular type of broadband connection in the UK, offering much faster speeds and more reliability than older copper telephone lines most of us currently rely on for broadband.
But what exactly is fibre broadband, and how does it differ from other types? From internet speed to availability in your area, to monthly prices and enticing add-ons, here's everything you need to know before you compare fibre-optic broadband deals.
What is fibre broadband?
Fibre broadband uses fibre-optic cables to connect your home, which carry data via pulses of light. These cables can transmit much more data in less time than copper wires, which means they're much faster and more reliable for a broadband connection than older networks.
Can I get fibre broadband in my area?
Fibre-optic broadband availability varies across the country, depending on which type of fibre broadband you're after. But almost everyone can get at least some form of it, and it will likely be plenty fast enough for your needs.
There are two main types of fibre broadband connections, and the type that you can get determines the speeds you can expect.
Part-fibre broadband
The most widely-available (and most popular) type of fibre broadband is part-fibre, which is also known as 'superfast' fibre.
It relies on fibre-optic cables from your provider's broadband exchange to the local cabinets on your street. But then the rest of the connection to your home uses the same copper wires as a standard ADSL connection.
This makes it several times faster than a purely copper connection, offering speeds between 30-70Mbps. That's plenty of speed for most households these days, but it's still a lot slower than full fibre broadband.
Superfast part-fibre is available to over 97% of UK premises, so there's a very good chance it'll be available to your home.
Full fibre broadband
Full fibre uses fibre-optic cables all the way from the provider's exchange directly to your home, and therefore offers some of the fastest broadband speeds available.
On a full fibre package, you could still get fairly standard speeds of 50-100Mbps for a reasonable price. But you could also opt for speeds well beyond 1Gbps (1000Mbps) and beyond. And while most people don't really need speeds this fast right now, full fibre will still help to future-proof your home for decades to come.
It's only available to about half of UK homes at the moment, but full fibre connections are expanding very quickly across the country. So if it's not available to your home just yet, it likely will be in the next couple of years.
To learn more about how full fibre broadband works, take a look at our detailed full fibre guide.
Uswitch broadband postcode checker
See what internet speeds are available and compare prices for any postcode in the UK.
Which are the best fibre broadband providers in the UK?
Almost all internet providers in the UK offer fibre broadband, and there's no one 'best' option. The best one for you entirely depends on what you need, whether it's a cheaper part-fibre deal or an ultrafast broadband connection.
Here are some of the broadband providers you can compare part-fibre and full fibre deals with today.
It's also a good idea to learn about what each broadband provider can offer you, including how well they are regarded for different parts of a broadband service.
Some may have excellent customer service, but their speeds may not be as fast as you'd like. Others may offer big TV bundles, but their prices might be a lot higher as a result. So it's important to read provider reviews to make sure you choose one that offers more of what you need.
Uswitch broadband provider reviews
Read our expert reviews of all of the UK's biggest broadband providers.
Virgin Media's cable broadband is slightly different from other fibre providers. While it also uses fibre-optic cables from its exchange to each local street cabinet, it then uses its own coaxial cables to finish the journey to your home.
This means Virgin Media is also capable of delivering very fast broadband speeds — currently ranging from 100Mbps to 1Gbps. Because it isn't part of the main Openreach network, Virgin has its own broadband infrastructure. Which is why its Virgin Media coverage is a bit more limited, at around 56% of UK premises.
However, Virgin Media is available in more areas than full fibre, so if you're looking for ultrafast or gigabit speeds, it's worth checking to see if Virgin Media broadband deals are available in your area.
Full fibre broadband providers
Some broadband providers only supply full fibre connections, which means the average speeds they offer are much faster.
However, their coverage is mainly contained to a limited number of regional areas of the UK for now, so their overall availability is lower than the larger providers. These brands include the likes of Hyperoptic, Community Fibre, Gigaclear and KCOM.
Compare our best fibre broadband deals in May 2023
How does fibre internet work?
Fibre broadband gains its speed advantage from the way it delivers data, and the type of cable it uses to do so.
Standard copper broadband uses the same wires as your landline telephone, but fibre-optic broadband cables, which are made of plastic and glass, use pulsing beams of light to transmit data instead.
This lets it transmit a lot more data in any given period than copper cables can. And unlike copper, fibre signals don't get weaker over time, so the connection is more consistent.
There are two main types of fibre broadband, and they work slightly differently. Here are two illustrations to explain the difference: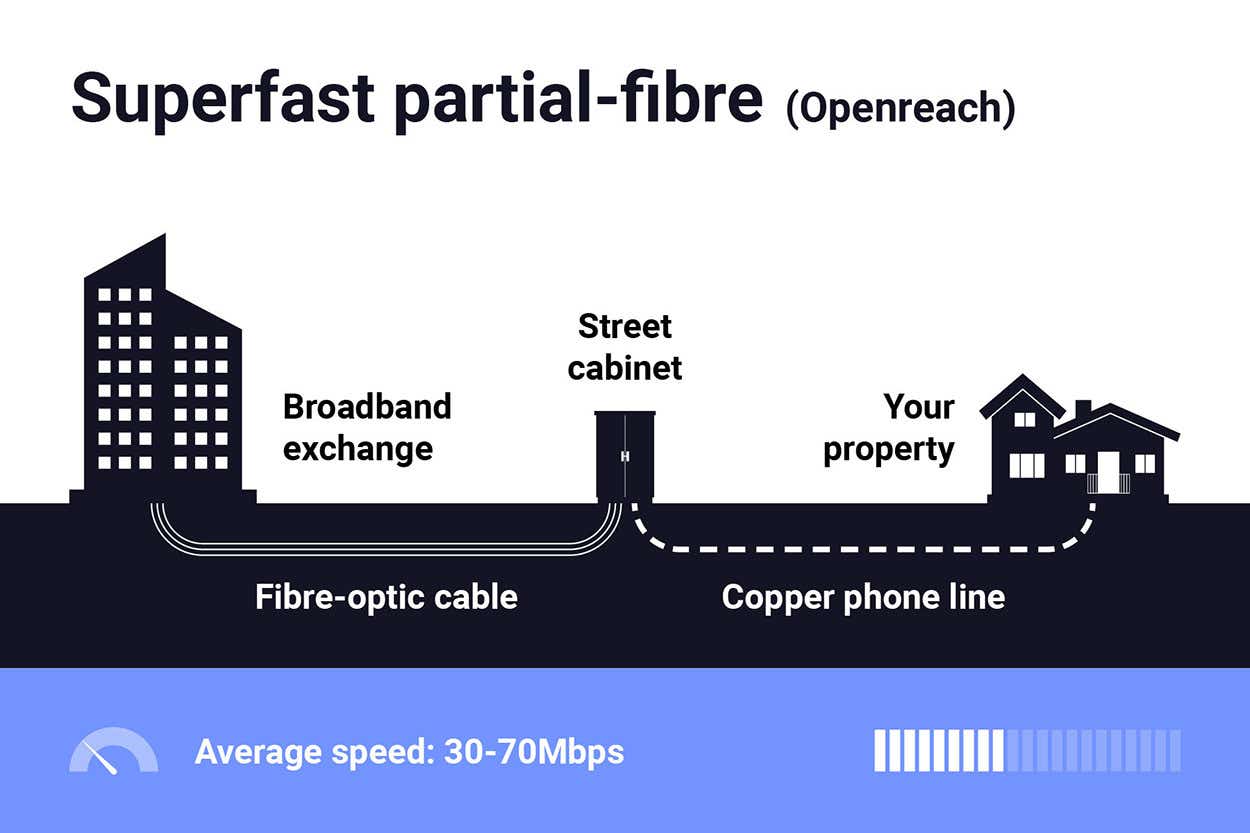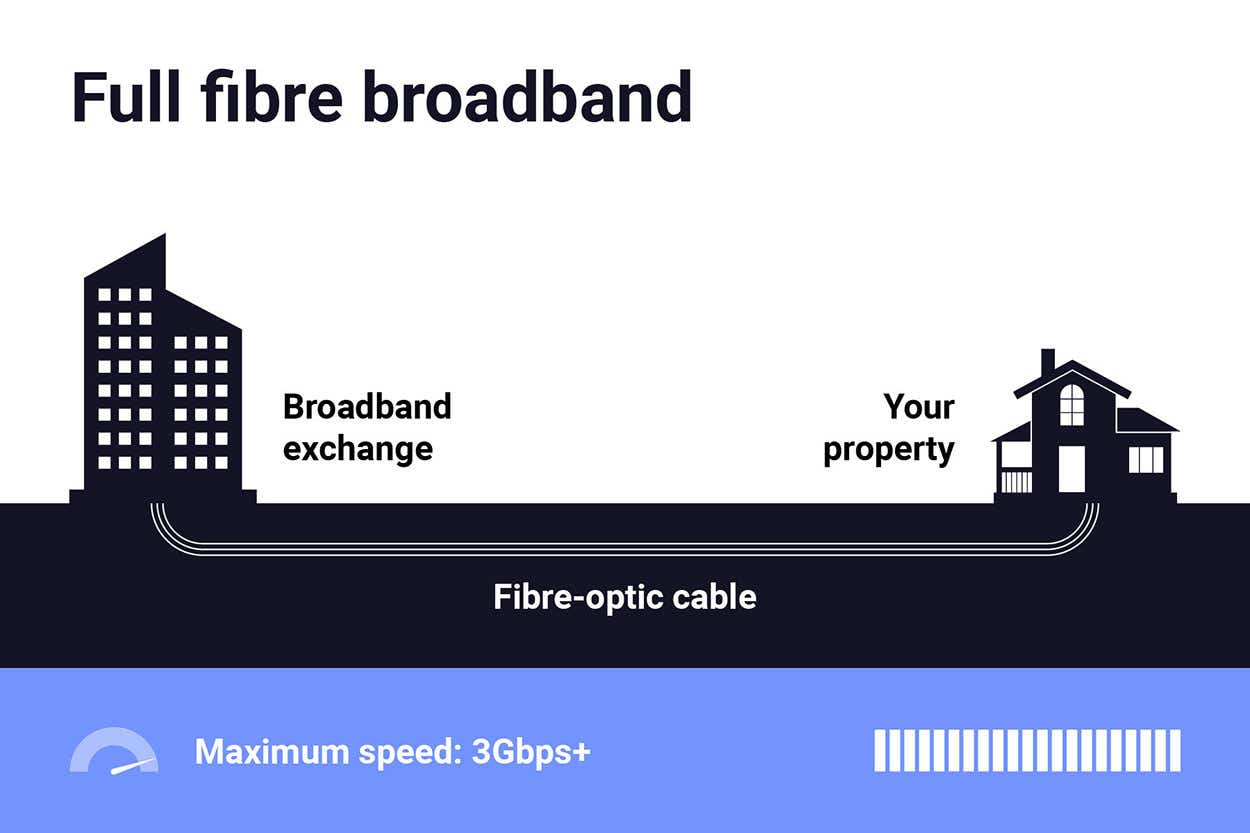 How to find the best fibre broadband deals
To find the best fibre broadband deal, you need to look for the best offer for you and your household. There's no one-size-fits-all approach to broadband because certain features and services would be more suited to you than others.
1. Decide what internet speed you need
The first thing to keep in mind is which broadband speed is right for you. For example, the more people regularly using broadband in your household, the faster internet speed you will need.
Thankfully, even part-fibre deals can currently handle most households' internet usage. But if you need a fast internet speed for working from home or gaming, full fibre deals are becoming more available. Plus, even if you don't need full fibre speeds right now, it soon may be the case that it's needed to handle all of the devices in your home.
This all said, regardless of how much internet you personally use, you'll have to account for everyone else's usage too. As a rough rule of thumb:
1-2 people per household: You could likely get away with a cheaper, slower fibre broadband speed below 35Mbps. But if you both often use the internet separately for bandwidth-hungry things like 4K streaming or gaming, you might have to look for something faster.

3-4 people: If your entire household only occasionally uses the internet, a speed of 35Mbps could be the most cost-effective option. But if you or your children are often watching Netflix or YouTube or playing online games, a speed of 50-100Mbps would be best.

5+ people: 50-100Mbps would be a safe bet if your household casually uses the internet, or you have children watching lots of videos. But if most people in the household use the internet a lot, such as high-quality TV streaming and working from home, a speed of 100Mbps or above would be ideal.
2. Consider TV and home phone bundles
Another thing to consider is whether you could benefit from a bundle deal that includes other services like pay-TV or a mobile contract. The best fibre broadband deal for you might end up being one that brings multiple services into a single, cheaper monthly payment under the same provider.
Broadband and TV deals combine your broadband and TV service into the same contract. This is only possible with providers that offer both services, such as Sky, BT, Virgin Media, TalkTalk and others. But if you use both services quite regularly, you could save a significant amount each month, and avoid paying extra for two separate bills.
Some providers also let you add a mobile phone contract to your broadband package, which will also let you save money by combining both services into a single package. Providers that have mobile phone networks, like Vodafone, BT and EE, will offer these bundles.
Broadband and TV deals
Take a look at the latest TV and broadband packages on Uswitch.
3. Choose a monthly price you're comfortable with
The price of a broadband deal is often impacted by its speed, but they can also go up depending on how many other services they come with, and which provider is offering them.
Once you've decided what it is you want from a broadband package, you should have a rough price range to choose from. For example, a simple broadband-only deal of about 60Mbps can often range between £22-£30 per month.
Some providers may charge towards £30 based on their reputation and the quality of their service. Others providers, often smaller ones, will charge a lower monthly fee of around £22 for a slightly simpler service. But both will still offer the same broadband speed.
So in these cases, it's good to read up on what each provider can offer, including broadband provider reviews, and decide which price suits the level of service you're likely to get.
Do I need fibre internet?
If you're in a small household of one or two people and you only use the internet for small things like scrolling through social media, sending emails or watching the odd YouTube video, standard broadband speeds should cover you.
However, in most cases, you can now get fibre broadband for the same price or cheaper than standard ADSL, so if that's the case in your situation you should definitely go for a fibre connection. You may find the extra investment worth it for the extra reliability fibre provides.
If you want to stream TV shows and movies regularly, play games online, download large files and programs, or you live in a household with three or more internet users, the speed advantage offered by fibre broadband is invaluable.
Of course, different services will have their own requirements. But the more internet your household wants to use at once, the more bandwidth you will need.
Why can't I get fibre broadband deals?
There are a few reasons why you might not be able to get fibre broadband:
You may live in a remote or hard-to-reach area, which is expensive for providers to install fibre cables

If you live in purpose-built flats, it can be difficult to install a fibre connection in each individual property

You can get partial fibre, which is slower, but not full fibre
Not all hope is lost, though. If you have a mobile internet signal on your phone at home, you might be able to get 4G or 5G mobile broadband if you want similar speeds to fibre.
Fibre broadband FAQs